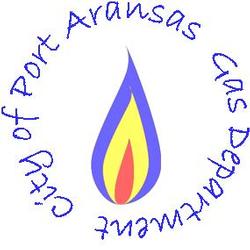 City of Port Aransas
710 W Avenue A
Port Aransas, Texas 78373
(361) 749-4111
Mission Statement:
Our mission is to excel, providing the community with specialized subject matter experts that will conform to the highest degree of safety. We have several safety programs and procedures in place to ensure we maintain our Texas Municipal League's Excellent Compliance record which, as of 2019, have held for 17 consecutive years.
Our website contains several safety tips outlined to assist the community with facts about natural gas and preventing damages to the distribution system. It also contains many links to safety regulations mandated by Congress which are enforced by the Department of Transportation, Pipeline Hazardous Material Safety Administration or PHMSA and moreover, by the Railroad Commission of Texas, enforcement of the Texas Administrative Code Title 16, Part 1. Consequently, the city currently has pipelines within the state right of way. Therefore, we fall under the regulation of the Texas Department of Transportation who enforces the Texas Administrative Code Title 43, Part 1 Chapter 21.
The Gas Department is responsible for providing natural gas services to all connected businesses and residents. For information on how to obtain gas service to your business or residence, please call City Hall at (361) 749-4111.
For information about regulatory issues, news, and compliance, please visit the Railroad Commission of Texas Website at: Texas Railroad Commission website.

TGA Natural Gas Training and More.