Service Line Specifications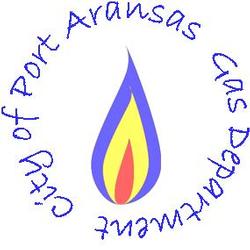 All plumbing installation and repairs must comply with Federal, State, and City Codes
The City of Port Aransas Gas Department is providing the following written specifications which derived from the American Gas Association's National Fuel Gas Code.

Following these specifications will help prevent any delay in activating gas service to your home or place of business.

The location of the point of delivery shall be acceptable to the City of Port Aransas. Contact the Gas Department at (361) 749-4111 or email to mitch@cityofportaransas.org in PDF or JPEG format a copy of your site plan for specific location.
Gas piping systems shall be of such size and so installed as to provide a supply of gas sufficient to meet the maximum demand without undue loss of pressure between the point of delivery and the appliance.

Gas piping shall have a minimum from finish grade a burial depth of 18" firmly bearing on the bottom of the trench.

Metallic pipe or tubing exposed to corrosive action shall be protected in an approved manner.

Zinc coatings shall not be deemed adequate protection for gas piping underground.

Ferrous Metal exposed in exterior locations shall be protected from corrosion in a manner satisfactory to the Building Official.
Plastic pipe, tubing and fittings shall be used outside, underground, only, and shall conform to ASTM D2513. Pipe shall be marked "gas" and "ASTM D 2513". Pipe shall be accompanied by #12 AGW direct burial tracer wire and all wire nuts used underground shall be suitable for direct burial.

Steel tubing shall comply with ASTM A 254 or ASTM A 539.

Copper tubing shall comply with Standard Type K or L of ASTM B 88 or ASTM B 280.

Aluminum-alloy tubing shall comply with ASTM B 210 of ASTM B 241. Aluminum-alloy tubing shall be coated to protect against external corrosion. Aluminum-alloy tubing shall not be used in exterior locations or underground.

Polyvinyl-chloride piping shall not be permitted for new gas systems.
Requirements for gas risers
Black or Galvanized Steel Gas Risers shall be pipe wrapped. Anodeless Gas Risers shall be rigid, designed and certified to meet the requirements of Category I of ASTM D 2513, and CFR 49 §192.281.
Gas Risers shall be at a minimum, 1" in diameter, metallic, 2' above finished grade, and with a minimum space of 2' perpendicular from City riser. See Fig. A below.
IF
the required gas demand is equal or greater than 2 MMBtu's, notify the Gas Department for Gas Riser specifications.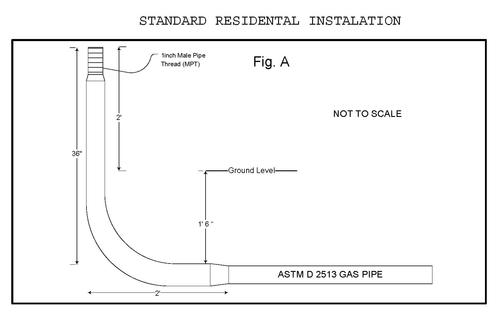 Information on placing the gas meter at the building line
A home buyer's decision to have natural gas in their home comes down to location, location, location and most builders and developers what to maintain an aesthetically appealing exterior to their homes and subdivisions, so the City of Port Aransas Gas Department has come up with a way to help add value to their buildings. The placement of a Natural Gas meter at the home and hidden from view is ideal. Here are some of the following requirements and guidelines too qualifying for this method.
An easement of (a minimum) 5 ft. wide by the length of the Natural Gas Service (piping) must be granted to the City of Port Aransas Gas Department by the land owner.
A Site plan must be submitted to the Gas Department (in digital formats PDF or JPEG) with a proposed location of the house (gas) line stub-out no later then 10 days after applying for building permit for proper planning.
An underground Curb Side Valve with an Extension Access Box placed at finish grade must be installed. Some exceptions may apply, contact the Gas Department for provisions.

A Natural Gas Meter can only encroach up to 5 ft. pass the Building line. Some exceptions may apply, contact the Gas Department for provisions.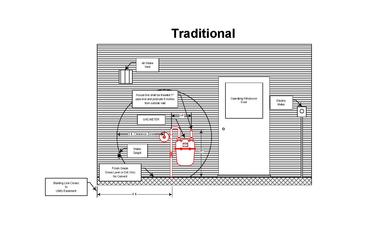 Gas Department tolerance zone requirements for vents, air intakes, electric meters, operating windows, doors, etc? shall be clear from the gas regulator vent by at least 3 ft.

Site plan can be forward to 

mitch@cityofportaransas.org.

See Building Official for any other requirements.
Please forward any comments or questions to mitch@cityofportaransas.org
When gas meters are set in the front of garages or anywhere they are subject to damage from vehicles, etc? the Gas Department requires guard posts to be installed for protection.
Guard Post must be 4" diameter pipe filled with concrete on a 15" diameter concrete footing, 4' in depth and 3' from grade placed no